You are here
Doosan Turning Center
Contact Us - 866-567-2580
Doosan offers the broadest line of CNC turning centers in the market today.
There are many types of horizontal and vertical lathe configurations to meet your turning needs.
---
Machine Highlight: Doosan Puma Series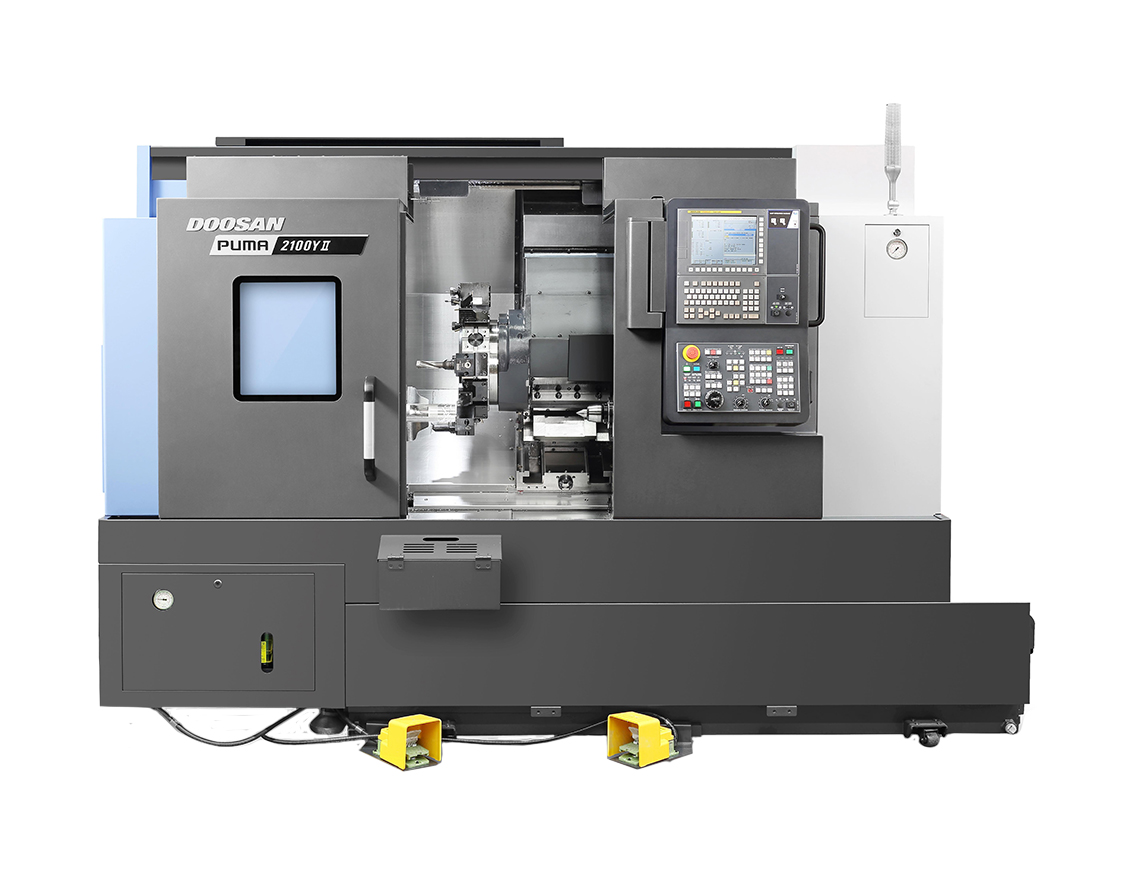 The Doosan Puma series machines are heavy-duty turning centers. From horizontal, vertical, or multi-tasking lathes, the Puma comes in a boxway or linear guideway design and is available with chuck sizes ranging from 8 to 32 inches. Big bore and additional configurations like twin-turret or milling capability make the Puma Series the ultimate solution for your turning needs.
Key Features:
High rigidity
Protection from thermal displacement
Energy savings
Space-saving
Heavy Duty and High Speed capable
Optional Milling, Drilling, and Tapping capabilities
Configurations like twin-spindle, twin-turret and ram-type
The versatility of the Puma series equips manufacturers with the competitive advantage to compete and win, both locally and globally. With the ultimate efficiency and cost-effectiveness in mind, Doosan designed the Puma line to provide manufacturers with performance that maximizes ROI.
Click here to see the complete Puma line-up and choose the CNC lathe that fits YOUR specifications.
---
Machine Highlight: Doosan Lynx Series
Doosan also offers compact turning centers.
The Doosan Lynx series is comprised of lathes with 6, 8, and 10 inch chuck sizes. With your choice of configurations for length, Y-axis added milling capability, and more, the Lynx series offers high-productivity turning in a compact size. Highly accurate and designed with fast rapids, the Lynx also boasts high-speed turret indexing to provide you with maximum performance.
Click here to learn more about the Lynx's potential to transform your shop.
---
When you buy your Doosan CNC Lathe from Ellison Technologies, you will benefit from our excellent service and engineering support:
---
About Ellison Technologies

Our mission is to equip manufacturers to compete and win, both locally and globally. We are committed to the survival and growth of the manufacturing industry. Today our customers face unprecedented competitive pressures to dramatically improve productivity and reduce costs. We understand that for our customers to be successful it's not just about the machines.
Our goal is to optimize throughput and quality at the lowest per-part manufacturing cost regardless of the solution involves a stand-alone machine, multi-process equipment, or an integrated manufacturing system with robotic automation.
With an extensive support staff of over 300 employees and 16 operations across the USA, Ellison Technologies is the largest machine tool distributor in North America.
Our team specializes in equipment, automation, and project management. They are dedicated to helping you get the most from your technology investments.
Our staff - sales, service, and engineers - works together to offer the best solutions for your business through the integration of manufacturing technologies. Check out our website to view our product offerings, videos, case studies, and more information about the machines featured in our comprehensive product line and manufacturing solutions.
Contact us today at 866-567-2580 or by email at cncinfo@ellisontechnologies.com to discuss the different types of Doosan lathe options including the Puma and Lynx series. Whether you need a horizontal or vertical lathe, we have the Doosan lathe that will meet or exceed your manufacturing needs.