Software powered by GSC, an Ellison Technologies Company
Currently available only in the following states: Illinois, Indiana, Iowa, Wisconsin and California.
Data Management,

Done Your Way
Are you in control of your design process, or is it controlling you and your team? Put an end to data chaos; be fully in control, knowing you are always working on the latest, most up-to-date file. Whether on the desktop or in the cloud, SOLIDWORKS has the solution to help you.
Cloud-based Data Management Solutions: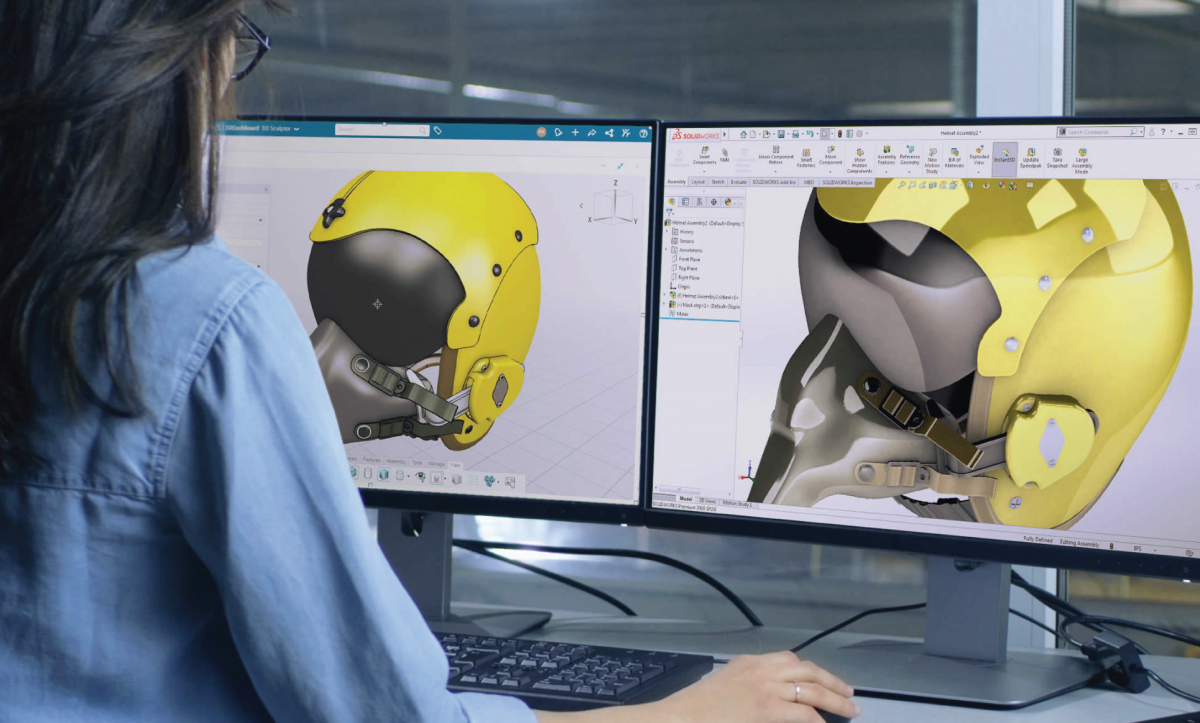 3DEXPERIENCE SOLIDWORKS
Secure, hassle-free, cloud-based data management and powerful cloud collaboration tools for product development companies of all sizes.
•    CAD license tied to a user(login from any device)
•    Industry-leading 3D CAD
•    Easy-to-use, secure cloud data management
•    Collaboration
•    Easy deployment
•    Added cloud-based design tools
•    Flexibility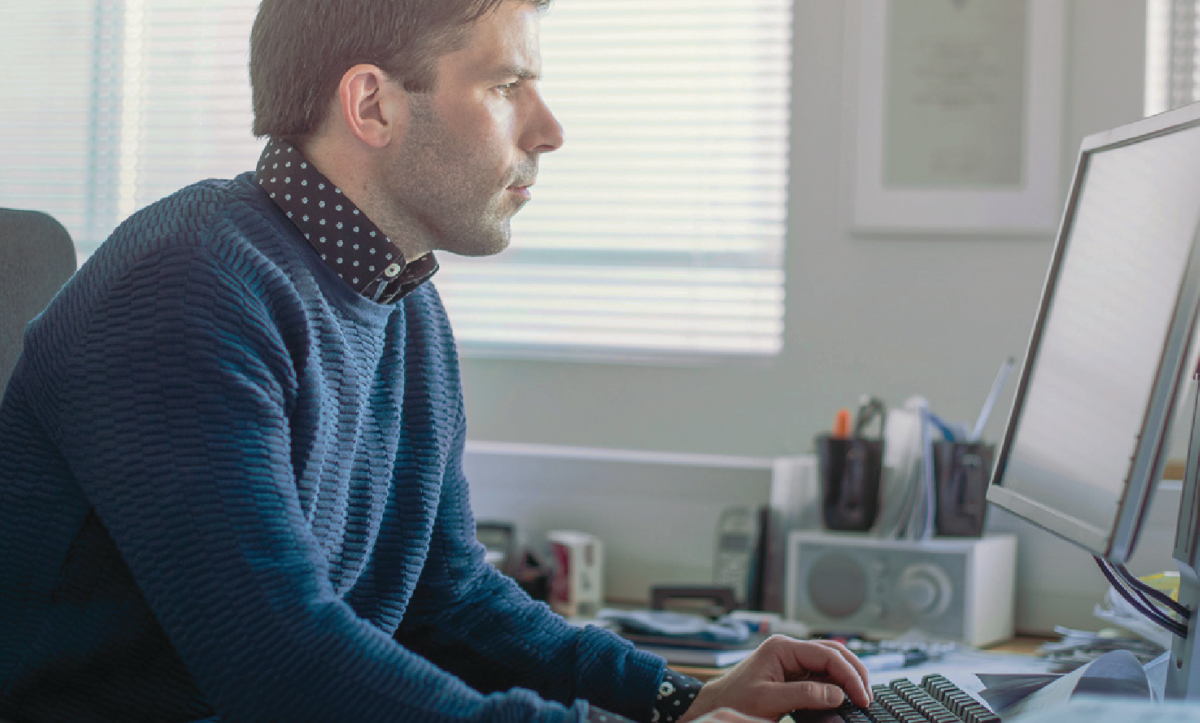 Desktop SOLIDWORKS + Collaborative Designer
Collaborative Designer for SOLIDWORKS connects SOLIDWORKS 3D CAD to the Cloud-based 3DEXPERIENCE platform so you can securely save your SOLIDWORKS design data to the cloud and access it from anywhere with a browser.
•    CAD license tied is tied to the machine, not the user
•    Industry-leading 3D CAD
•    Easy-to-use, secure cloud data management
•    Collaboration
•    Multi product and 3rd party add-in support
•    Network license available
•    Previous version support
Desktop Data Management Solutions: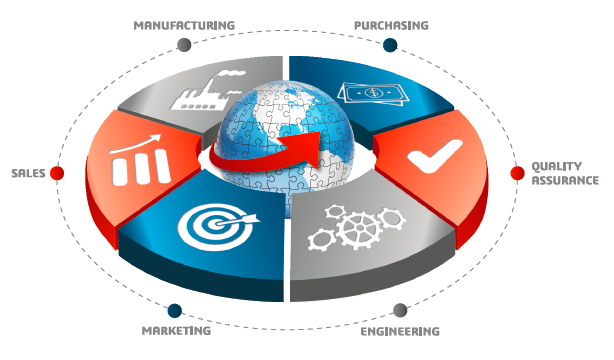 SOLIDWORKS
Manage
SOLIDWORKS Manage is a record-based data management system that bolts onto SOLIDWORKS PDM Professional's file-based data management system. Manage leverages the file management capabilities of SOLIDWORKS PDM Professional and adds powerful project, process, and item management capabilities with interactive dashboards and reports.
Key Features:
Project Management: 
Prioritize tasks and better utilize resources by providing key information about capacity and workload.
Item Management:  
In one place, combine all components required for product definition, whether represented by a CAD model, document, or database-only items.
Process Management:
Streamline business processes, automate document creation, and brings together all involved stakeholders for new products—from sales and marketing to production and support.
Dashboards & Reports:
Get instant access to critical information in an easy-to-consume format for heightened decision-making.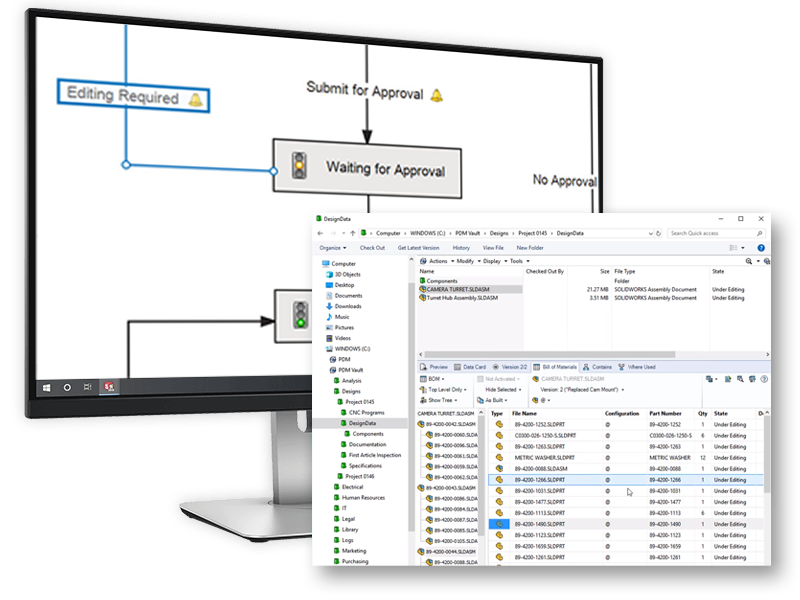 SOLIDWORKS
PDM
SOLIDWORKS Product Data Management (PDM) solutions help you get your design data under control and substantially improve the way your teams manage and collaborate on product development.
SOLIDWORKS PDM Standard:
A data management solution for smaller environments in one geographic location. Eliminates the overhead of managing data on local and shared network drives. Easy to implement and ensures team members have access to the right files at the right time.
Secure File Vaulting
Design Reuse
File Management
Revision & Version Control
 
SOLIDWORKS PDM Professional:
Full-featured data management for organizations large and small. Easily re-purpose files, parts, and drawings; share design information; automate workflows and ensure manufacturing always has the right version.
Bills of Materials Management (BOM)
Distributed Collaboration
Engineering Change Management
Enterprise Scalability
Regulatory Compliance