Software powered by GSC, an Ellison Technologies Company
Currently available only in the following states: Illinois, Indiana, Iowa, Wisconsin and California.
Top-notch CNC Software Tools for Your Machining Needs
SOLIDWORKS CAM, CAMWorks, and DELMIAWorks are seamlessly integrated into your SOLIDWORKS CAD system, allowing you to transition effortlessly from CAD to CAM without the need for external software. By storing CAM data within the model, any changes made to the part or assembly will automatically update the CAM toolpaths and G-code for efficient machining.
SOLIDWORKS CAM
SOLIDWORKS CAM is powered by CAMWorks, a leading SOLIDWORKS Gold Partner for 25 years strong. Introductory programming capabilities are included under the SOLIDWORKS CAM umbrella, with more advanced features in the CAMWorks bundles.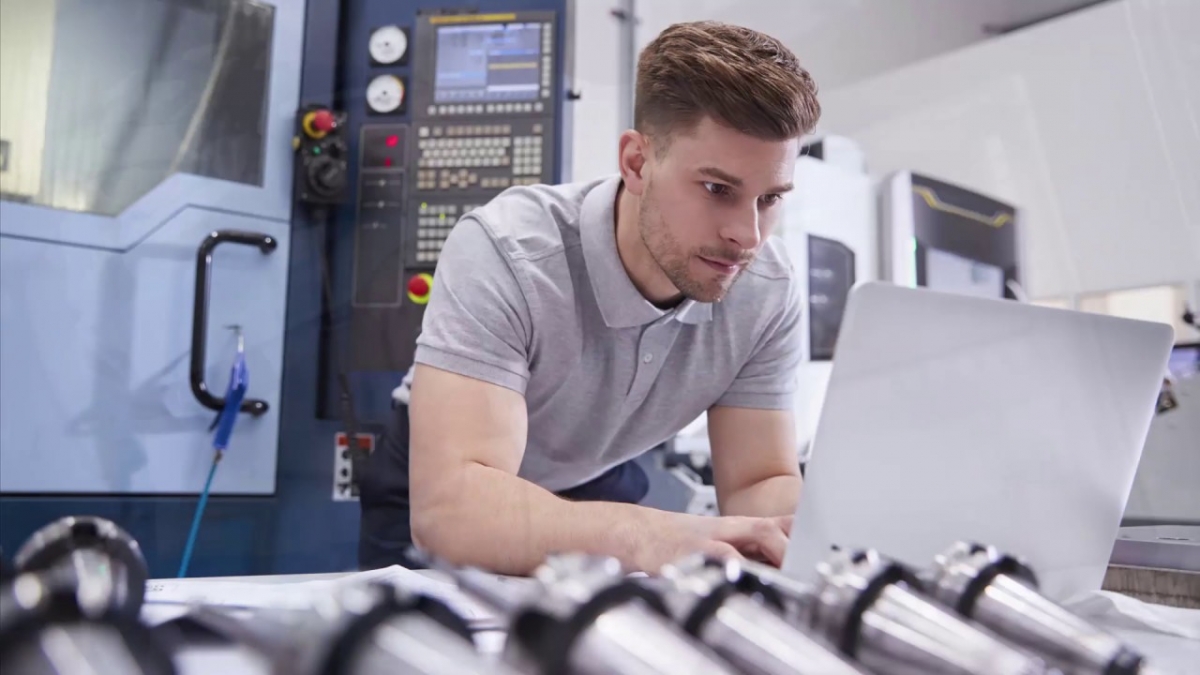 SOLIDWORKS CAM Standard:
Rules-based machining without leaving SOLIDWORKS
SOLIDWORKS CAM Standard allows users to quickly program individual parts without leaving the SOLIDWORKS 3D CAD environment. This entry-level offering is included for any customer currently on subscription running 2018 or newer. You have full access to defining rules within SOLIDWORKS CAM to create and build to company standards. Powerful tools allow you to perform 2.5-axis milling operations, which is ideal for holes, pockets, and any feature with vertical sidewalls.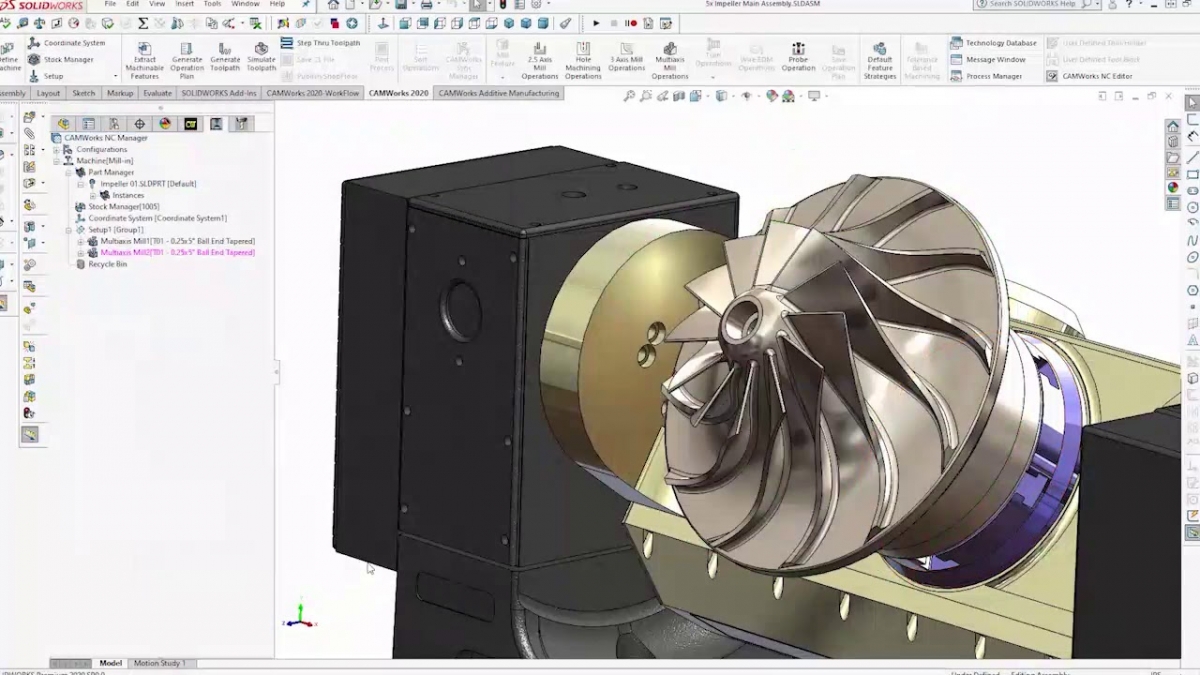 SOLIDWORKS CAM Professional:
Rules-based machining with increased programming capabilities
SOLIDWORKS CAM Professional builds on the capabilities of SOLIDWORKS CAM Standard to increase programming capabilities. Professional incorporates many time-saving tools to maximize your ROI, including Volumill high-speed machining and 2-axis turning operations.
CAMWorks
CAMWorks is an intuitive, feature-based CAM software that helps to increase productivity using best-in-class technologies and adaptable automation tools to maximize CNC machining efficiency.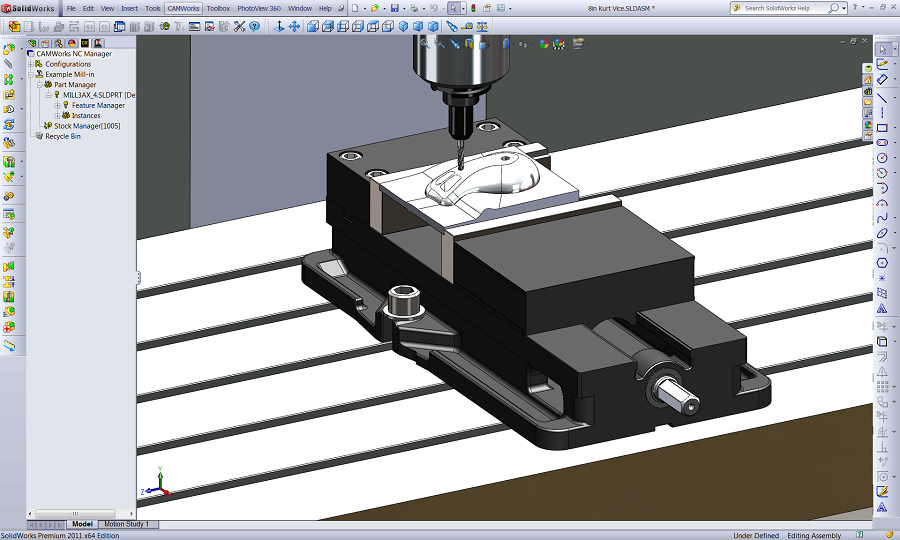 CAMWorks Standard:
Assembly machining, 4 and 5-axis indexing, rotary milling, and more await in this CNC programming option for SOLIDWORKS. Get the essentials you need to machine quickly. CAMWorks Standard takes SOLIDWORKS CAM Professional's potent capabilities and adds 4-axis wrapped milling and sub-spindle control for lathes.
2.5 Axis Milling & 2 Axis Turning
4th & 5th Pre-Positioning
4th Axis Wrapped
Volumill, Sub-Spindle
CIMCO Editor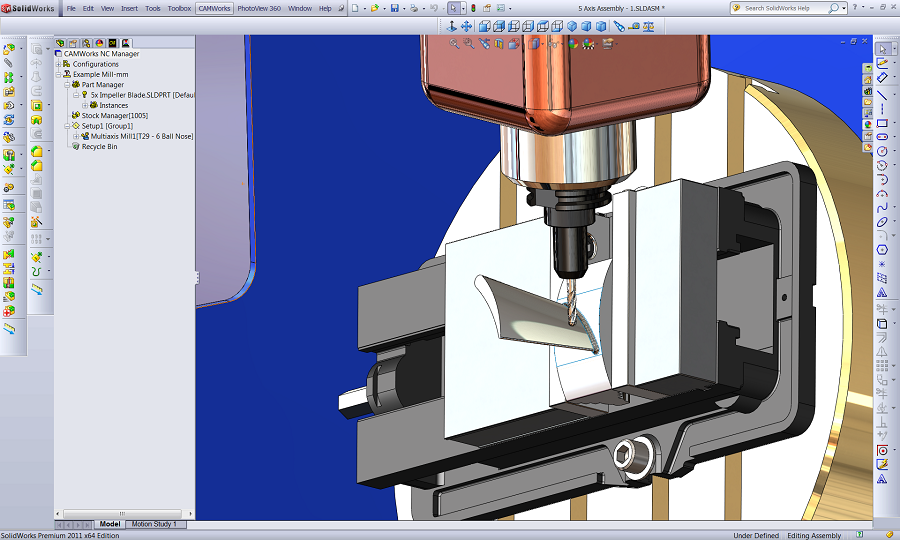 CAMWorks Premium:
The ultimate machining bundle, CAMWorks Premium offers full 5 axis milling control. Feature-based and knowledge-based machining, simultaneous milling (2.5 through 5 axis) and mill-turn abilities deliver a highly efficient experience. CAMWorks Premium gives you the most capable CAM programming package, all within the familiar SOLIDWORKS environment.
2.5 Axis, 3 Axis (with undercutting), 4th Axis, and 5th Axis Milling
Synchronous Machining, CIMCO Editor, & Virtual Machine Standard
4th & 5th Pre-Positioning
4th Axis Wrapped
2 Axis Turning, Volumill, & Mill-Turn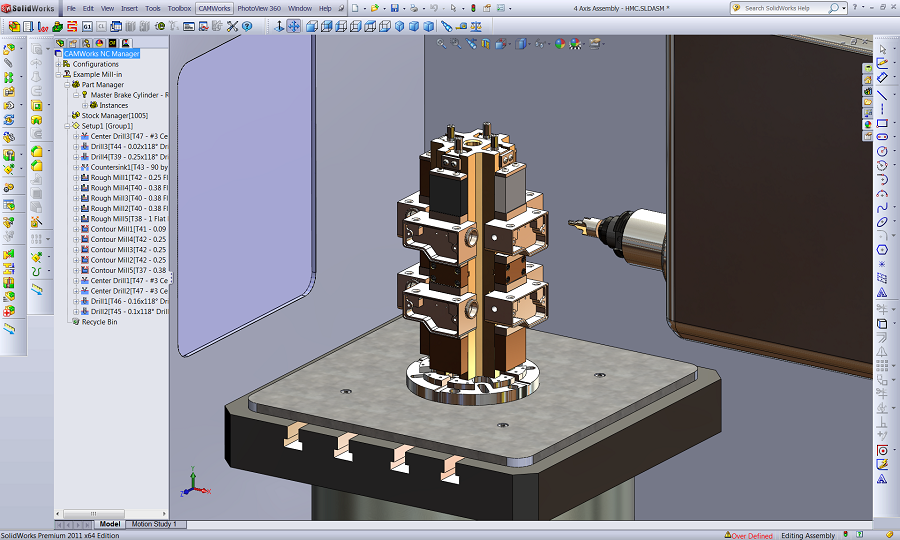 Milling Professional:
Fully integrated with SOLIDWORKS, Milling Professional is a CNC programming solution where you can high-speed machine. For the shop that needs the ultimate in milling capabilities, CAMWorks Milling Professional adds undercutting capabilities and Mill-Turn programming for an unbeatable combo.
2.5 Axis, 3 Axis (with undercutting), & 4th Axis Milling
4th & 5th Pre-Positioning, 4th Axis Wrapped
2 Axis Turning, Sub-Spindle
Volumill, CIMCO Editor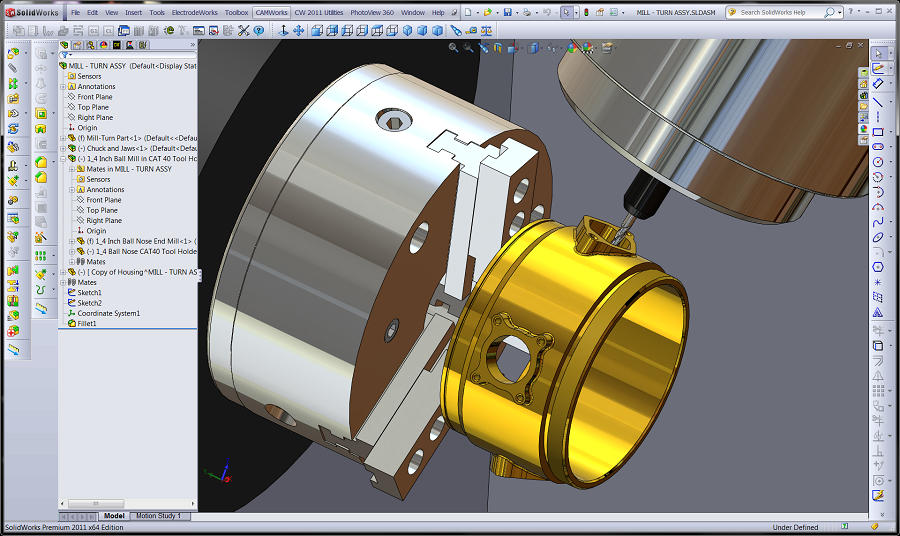 Turning Professional:
The most capable turning package on the market, CAMWorks Turning Professional features synchronous machining through the Sync Manager application, giving you the highest available throughput for your machines. For the ultimate in g-code simulation, Virtual Machine Standard is included as well.
2.5 Axis Milling, 2 Axis Turning, & Mill-Turn
4th & 5th Pre-Positioning, 4th Axis Wrapped
Synchronous Machining, Virtual Machine Standard
Volumill, Sub-Spindle, CIMCO Editor
Find the Best Solution for Your Needs
See Which CAM Solution is Right for You.
What is DELMIAWorks
The DELMIAWorks solution provides a proven, single technology platform that delivers end-to-end visibility of the complete manufacturing process. The real-time visibility of events throughout the manufacturing process allows customers to eliminate waste and non-value-added processes and improve manufacturing efficiency.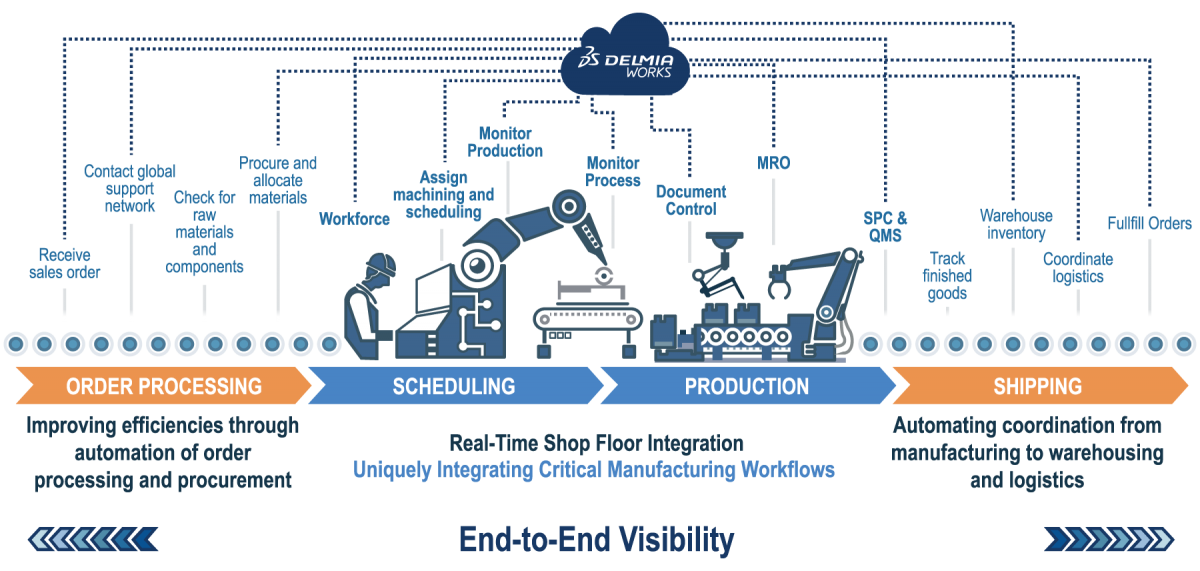 The DELMIAWorks Advantage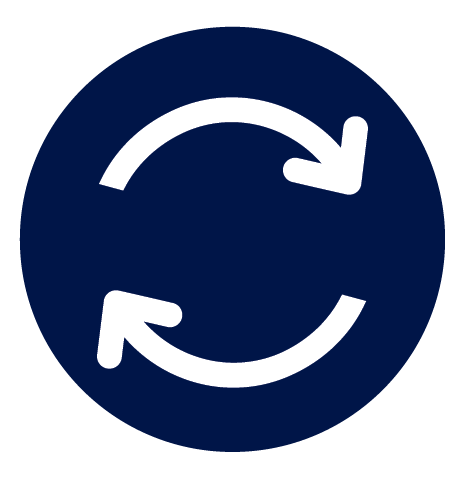 Streamline Processes
Streamline processes across the supply chain and set you on the path to operational excellence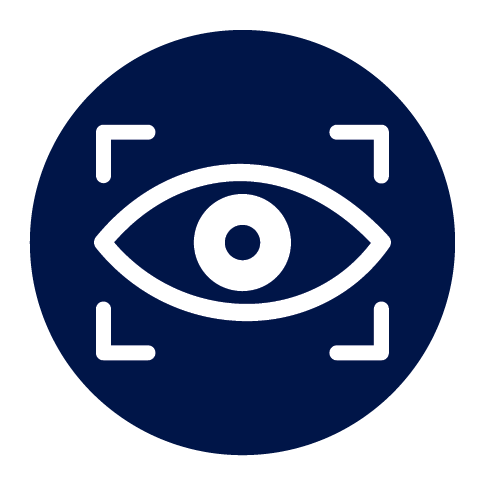 Complete Visibility
Gain end-to-end visibility and control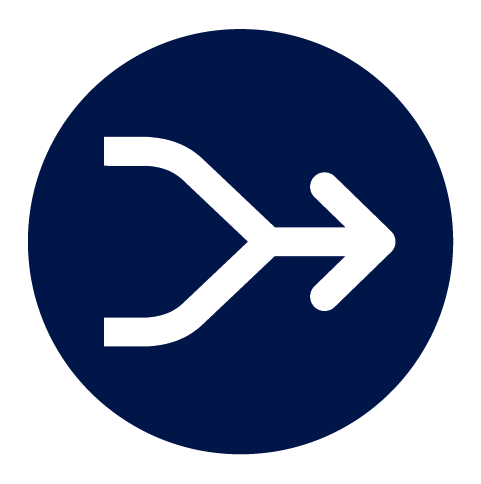 Consolidate Software
Combine manufacturing software, MES software, and ERP software to improve every aspect of your business